Used Honda BR-V Spares For Sale
Local South African Scrap Yards, stripping Honda BR-V for spares.
FIND YOUR PARTS
Honda BR-V Parts
Honda Spares Scrap Yard offers an wide-ranging selection of second hand BR-V Honda spares and parts. We are fully committed to supplying you excellent superior used spares of the very best quality, at a budget friendly price for your satisfaction. It really is pretty likely we will keep the component you will need for practically any Honda automobile in South Africa. Within the improbable event that we won't possess the component you are looking for, we'll work to track it for you!
Our Parts Inventory
Honda Spares Scrap Yard offers a variety of Authentic second hand Honda BR-V spares. We specialize in parts for the Honda BR-V, particularly engines, transmissions, body parts, seats, door mats, tail lamps, shock absorbers, electronic parts, cylinder heads and many others.
We Send Parts all over SA!
We can deliver Honda spare parts throughout South Africa and neighbouring countries: Namibia, Zimbabwe, Swaziland, Botswana and Swaziland. We use top couriers with a "to the door service".
Scrap Your Honda For Parts!
We buy accident damaged or non-runners Honda's and strip them for spares. We buy vehicles in any condition! Whatever state they are in! Call today if you would like to get good money for your vehicle.
You're In Good Hands!
We only sell the best replacement Honda parts from reputable overseas companies having the top customer reviews. All new parts are guaranteed, ensuring your 100% satisfaction.  
Past Honda BR-V Part Enquiries
Date

City

Model

Engine

Requirements

2022-07-08 20:15:24 +00:00

Gauteng

BR-V

56

Engine

2022-07-04 07:51:40 +00:00

Boksburg

BR-V

Bonnet, front bumper, radiator grill, badge, headlights

2022-07-02 13:57:23 +00:00

Cape town

BR-V

1,5

Flywheel, for Honda BRV 2018 model

2022-06-23 20:41:43 +00:00

Cape Town, Western Cape, SOUTH AFRICA

BR-V

1.5

FRONT BUMPER
GRILL
BOTH HEADLIGHT
BONNET
RADIATOR
CONDENSOR
OIL COOLER

2022-06-20 17:09:14 +00:00

Cape Town, Western Cape, SOUTH AFRICA

BR-V

RADIATOR
CONENSOR
OIL COOLER
AUTO GEAR BOX

2022-06-13 09:03:54 +00:00

Johannesburg

BR-V

1.5

Computer box
Speedometer
Key set.

2022-05-09 16:10:11 +00:00

Rodepoort

BR-V

1.5

Front wheel bearing

2022-05-01 06:51:07 +00:00

ROODEPOORT

BR-V

Main fuse

2022-04-28 22:03:33 +00:00

Capetown

BR-V

1.5

Left door,fender and mirror

2022-04-21 21:07:35 +00:00

The Woods

BR-V

1.5

Radiator, and 2 fans, cooler,left hand side arch cover. Front bumper cover, Timing chain cover

2022-04-18 19:00:14 +00:00

Johannesburg

BR-V

1.5

Looking for a front left wheel arch/cover for a Honda BR-V

2022-04-18 06:34:44 +00:00

Harding

BR-V

1.5L

Right mirror

2022-04-16 12:39:41 +00:00

Centurion

BR-V

1.5

Request quote for Honda BR-V 1.5L 2018 Model

2022-04-08 10:38:31 +00:00

Bloemfontein

BR-V

1.5

Starter

2022-04-04 09:30:00 +00:00

Boksburg

BR-V

1.5

Drivers Side Fender Arch Trim

2022-04-03 13:59:43 +00:00

East London

BR-V

Cv joints for Honda brv

2022-03-29 07:50:35 +00:00

East London

BR-V

1.5

Left CV joint for Honda BRV

2022-03-25 20:48:49 +00:00

CAPE TOWN

BR-V

NEED DRIVER SIDE ELECTRIC WINDOW PANEL SWITCHES

2022-03-07 07:49:53 +00:00

PRETORIA

BR-V

1.5

hi
im looking for a left hand side sun visor please

2022-03-04 06:50:17 +00:00

brakpan

BR-V

1.5

2ND HAND - COMPLETE TAILGATE
About The BR-V
The Honda BR-V is a mini SUV produced by Honda since 2015. This car was first introduced at the 2015 Gaikindo Indonesia International Auto Show on August 20, 2015. The car then began to be marketed on January 23, 2016. This car shares a platform from Brio, Mobilio, and Amaze .
Honda BR-V engine
Honda BR-V which carries the i-VTEC engine which is a technology from Honda and is widely used in their output cars. Honda BR-V carries the 1.5-liter i-VTEC engine which consists of 4 cylinder 16 valve DOHC models. The maximum power in this vehicle engine reaches 120 HP at 6600 rpm rotation and maximum torque up to 145 Nm at 4600 rpm rotation. Honda BR-V engine capacity is 1,496 cc or 1,500 cc equivalent.
Updates
Honda Prospect Motor (PT HPM) at the 2018 Indonesia International Motor Show (IIMS) held 19-29 April 2018 has officially introduced the All New Honda BR-V which is the latest generation for this Honda SUV.
This BR-V update brings a variety of advanced features that are increasingly complementing the features that existed in the previous generation BR-V. Among the refinements of the Honda BR-V include the new Side Door Garnish which adds a dashing aura, a power retractable door mirror to electrically fold the rearview mirror and a shark fin antenna that is increasingly successful at making the New Honda BR-V look more dynamic.
Then for the interior, the refresher feature lies in the insertion of a new audio head unit measuring 8 inches floating touchscreen display audio which is equipped with USB Port connectivity, AUX input, Bluetooth, HDMI and Android Mode with smart app car. Finally, refreshment lies in the New Honda BR-V arm rest located in the center console which makes the driving experience more comfortable.
Honda BR-V Review
Honda's Stripping For Spares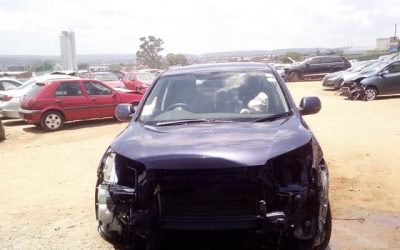 Now stripping a 1996 HONDA BALLADE 160i LUXLINE. Contact us for any part enquiries. Gearbox Complete Engine Lock Set: CAS, Key, Computer Box Suspension Parts Radiator Set: Radiator AC Condenser, Radiator Fan, Intercooler, Water Pipes, Heat Exchanger Interior...