Used Honda Ballade Spares For Sale
A Local South African Scrap Yard, stripping Honda Ballade's for spares.
FIND YOUR PARTS
Honda Ballade Parts For Sale
Honda Spares Scrap Yard offers a broad selection of used Ballade Honda spares and parts. We are fully committed to offering you great superior used parts of the greatest quality, at a cost-effective price for your fulfillment. It really is pretty likely we'll carry the component you'll need for almost any Honda vehicle in South Africa. Within the dubious occasion that we won't have the component you are hunting for, we'll work to source it for you!
Our Stock
Honda Spares Scrap Yard carries an array of Unique second hand Honda Ballade spare parts. We specialize in a assortment of spares for the Honda Ballade, specifically motors, gearboxes, body parts, mirrors, door mats, headlamps, coil springs, electronic spares, camshafts and numerous others.
We Send Parts all over SA!
We can deliver Honda spare parts throughout South Africa and neighbouring countries: Namibia, Zimbabwe, Swaziland, Botswana and Swaziland. We use top couriers with a "to the door service".
Scrap Your Honda For Parts!
We buy accident damaged or non-runners Honda's and strip them for spares. We buy vehicles in any condition! Whatever state they are in! Call today if you would like to get good money for your vehicle.
You're In Good Hands!
We only sell the best replacement Honda parts from reputable overseas companies having the top customer reviews. All new parts are guaranteed, ensuring your 100% satisfaction.  
Past Honda Ballade Part Enquiries
Date

City

Model

Engine

Requirements

2022-07-13 08:23:20 +00:00

Johannesburg

Ballade

1.5

Driver side window master switch complete

2022-07-12 20:41:24 +00:00

Cape Town

Ballade

Hi there,

I'm looking for a gearbox for my Honda pop-up balade zc 160i. It's a cable box. Please advise on price and availability, thanks

2022-07-11 10:50:58 +00:00

Delmas

Ballade

1.6

1.6 blog for Honda ballade

2022-07-08 10:55:48 +00:00

Roodepoort

Ballade

1.5

front subframe

2022-07-06 23:57:02 +00:00

Pretoria

Ballade

1.4

rear brake light cover left,front left indicator cover,wiper motor, radiator

2022-07-04 19:36:08 +00:00

Port Elizabeth

Ballade

2l

Looking for a s80 gearbox or a s4c vtec gearbox and a 63mm powerflow exhaust

2022-07-02 11:19:47 +00:00

Pietermaritzburg

Ballade

150

Starter motor 1998 so4

2022-07-01 06:54:53 +00:00

Boksburg

Ballade

1475KG

Steering rack for honda ballade 2015 model manual

2022-06-30 18:33:33 +00:00

BLOMFOTEIN

Ballade

1600i

eletronic disturtbitor


2022-06-29 10:20:32 +00:00

Durban

Ballade

150i encore

Idle Air control valve

2022-06-28 13:48:38 +00:00

benoni

Ballade

1.6

engine

2022-06-26 16:02:42 +00:00

Richards Bay

Ballade

1.5

Driver and passenger door

2022-06-25 08:21:24 +00:00

Pretoria

Ballade

150

Carburator

2022-06-21 20:25:42 +00:00

Johannesburg

Ballade

150

Fuel tank

2022-06-21 04:07:05 +00:00

Potchefstroom

Ballade

160i 1996-2000 D16Y

Engine

2022-06-20 13:56:41 +00:00

gauteng

Ballade

180i

complete ignition switch with wiring, also cubyhole

2022-06-20 13:32:07 +00:00

Pretoria

Ballade

1500cc

Both front doors
Both rear doors

2022-06-20 10:07:22 +00:00

MAHIKENG

Ballade

1500

Power steering pump

2022-06-17 06:44:53 +00:00

Pretoria

Ballade

150

Camshaft

2022-06-16 14:50:13 +00:00

Carletonville

Ballade

150 16v (DOC SHAPE)

1. Complete F&R suspension kit,
2. Gearbox shafts/oil seals
About The bALLADE
The Honda Ballade was a compact car built by Honda of Japan. It started as a four-door high-end version of the Honda Civic in 1980. The Ballad was developed at the same time as the Honda Vigor, which had a higher content level than the Honda Accord. The Ballad was sold exclusively in Japan by Honda Verno dealers with the Vigor, Honda Prelude , CR-X, and Honda Quinto. In the UK, it was released at the same time as the similar Triumph Acclaim that had a Honda-built engine.
The name of the car is the French word for a "ballad". The Ballad competed in Japan with the Toyota Sprinter , the Nissan Laurel Spirit and Nissan Sunny.
For 1987, the Honda Civic was significantly redesigned, with a worldwide release in 1988. The suspension has a radical configuration that Honda calls "double suspension suspension" on all four corners, the wheelbase also increased to 2500 mm. The bodywork was fully redesigned with a lower bonnet line and more glass surface, resulting in much less drag. The rear suspension can be more accurately described as a multi-link towing arm suspension, as the upper control arm has only a single anchor.
More powerful engines
The base model of the fourth generation Civic had a 1.3 L single bono box, but this single carburetor engine was not available for the Japanese and US markets.
The 1.5 L single bono engine is available in a wide range of models, with either twin injection, either single carburetor or dual carburetor. These more powerful engines were available in the Japanese market than the 25X and 25XT.
But there was more to come, and by the end of 1989, the top-model hatchback was the new SiR , equipped with a 1.6 L, 160 PS (118 kW; 158 hp) at 7600 rpm B16A DBNA-VTEC engine. It was the first B-engine, and also the introduction of Honda's variable valve timing and electronic valve control technology, or VTEC. By providing two different camshaft profiles – one for fuel economy, and one for performance – the VTEC engines set a high-speed, naturally-aspirated precedent for future Honda Civic performance variants.
With its light weight, independent suspension and powerful engine, the car is well received around the world. The Civic wins the "Golden Steering Wheel Award" from the German newspaper Bild am Sonntag , and the first place in France's l'Automobile magazine for quality and fidelity in 1989.
The European model, named the "1.6i-VT", uses a slightly less powerful B16A1 engine, delivering 112 kW at its 8200 rpm red line.
Honda's Stripping For Spares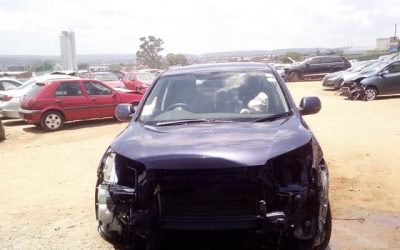 Now stripping a 1996 HONDA BALLADE 160i LUXLINE. Contact us for any part enquiries. Gearbox Complete Engine Lock Set: CAS, Key, Computer Box Suspension Parts Radiator Set: Radiator AC Condenser, Radiator Fan, Intercooler, Water Pipes, Heat Exchanger Interior...