Used Honda Brio Spares For Sale
Local South African Scrap Yards, stripping Honda Brio for spares.
FIND YOUR PARTS
Honda BRIO Parts
Honda Spares Scrap Yard presents an substantial selection of second hand Honda Brio parts. We are committed to supplying you excellent high quality second hand spares of the finest quality, at a economical price for your satisfaction. It is very likely we will carry the component you will need for nearly any Honda car in South Africa. Within the improbable occasion that we won't possess the part you are hunting for, we'll endeavor to source it for you!
Our Stock
Honda Spares Scrap Yard offers many Genuine second hand Honda Brio parts. We specialize in a variety of parts for the Honda Brio, like engines, gearboxes, body spares, interiors, door mats, tail lamps, coil springs, electronic parts, ring gears and much more.
We Send Parts all over SA!
We can deliver Honda spare parts throughout South Africa and neighbouring countries: Namibia, Zimbabwe, Swaziland, Botswana and Swaziland. We use top couriers with a "to the door service".
Scrap Your Honda For Parts!
We buy accident damaged or non-runners Honda's and strip them for spares. We buy vehicles in any condition! Whatever state they are in! Call today if you would like to get good money for your vehicle.
You're In Good Hands!
We only sell the best replacement Honda parts from reputable overseas companies having the top customer reviews. All new parts are guaranteed, ensuring your 100% satisfaction.  
Past Honda Brio Part Enquiries
Date

City

Model

Engine

Requirements

2022-07-13 13:03:18 +00:00

EAST LONDON,EASTERN CAPE

Brio

1.2

Right head lamp and washer bottle for wipers

2022-06-25 09:13:46 +00:00

Cape Town

Brio

1.2

Left passenger Window power switch

2022-06-22 09:17:00 +00:00

Pretoria

Brio

1.2

Good day, we need a fog light & cover please. Do you have and what price are we looking at? How/where can we buy it from you?

2022-06-19 05:50:19 +00:00

KROONSTAD

Brio

1.2

computer box

2022-05-30 12:24:30 +00:00

GERMISTON

Brio

REAR BUMPER

2022-05-26 13:31:35 +00:00

Butterworth

Brio

Front Crankshaft seal

2022-05-26 13:31:33 +00:00

Butterworth

Brio

Front Crankshaft seal

2022-05-25 08:24:21 +00:00

Windhoek/ Namibia

Brio

1.2

Used front bumper, fog lights, under engine cover.

2022-05-09 10:36:05 +00:00

Boksburg

Brio

1.2

Control arm bushes

2022-05-09 09:29:20 +00:00

Cape Town

Brio

1.2

Right side driveshaft

2022-05-05 12:12:48 +00:00

Actonville

Brio

1.2

Left and right Headlights

2022-04-30 07:50:28 +00:00

Johannesburg

Brio

1.2

Hi.i m looking 2013 honda brio.fender left right.2.bonnet.3.radiator complete set.4craddle.5 front lights

2022-04-25 07:57:15 +00:00

Polokwane

Brio

1.2

left rear light housing

2022-04-19 11:45:17 +00:00

Cape Town

Brio

1.2

2014 Honda brio sedan speed sensor cable


2022-04-19 10:08:55 +00:00

Bethlehem

Brio

1.2

Front Bumper
Bonnet
Left from head lights

2022-04-15 07:16:43 +00:00

ST HELENA BAY

Brio

1.2

right front door window mechanism ( electric ) 2013 brio

2022-04-07 13:37:22 +00:00

Port Elizabeth

Brio

1.2

Rear right taillight

2022-04-07 06:50:19 +00:00

Edenvale

Brio

Drivers door lock mechanism with central locking

2022-03-31 06:09:54 +00:00

Stellenbosch

Brio

1.2

Need two side mirrors, the mirrors are colour coded to the car (brown).

2022-03-30 10:11:55 +00:00

Pretoria

Brio

1.2

Water pipe for honda brio 2012 model
About The Brio
The Honda Brio is a small car from the Japanese car manufacturer Honda, which is sold in India, Thailand, South Africa, Indonesia and the Philippines.
History
At the Auto Expo 2010 in New Delhi , Honda showed a first look at the Brio with the concept vehicle "Honda New Small Concept". In March 2011, production of the series model started in Thailand, the Indian market followed in September 2011. In Indonesia, built the vehicle since, 2013. The launch of Brio in South Africa was in December 2012, in the Philippines the car is sold since September, 2014.
The five-door was developed to offer a vehicle below the jazz in emerging countries .
At the Indonesia International Motor Show in April 2016, Honda presented a revised version of the Brio. The update includes a new grill, new rear headlights, a new dashboard and, with the "Brio RS", a new equipment variant.
Name
The term "Brio" comes from the Italian language and means "Schwung" when translated into German .
Sales
The brio was originally supposed to be sold in India in early 2011. Due to the Tōhoku earthquake in 2011 , the market launch was delayed until September 2011.
Honda had already recorded a decline in sales at the end of 2011, as production there had stopped until February 15, 2012 due to the flood disaster in Thailand . The brio could not be built in India for over a month either, as important parts for the production are supplied from Thailand. [7]
Specifications
The car is powered by a 65 kW (88 hp) 1.2-liter in-line four-cylinder petrol engine . This can be combined with a 5-speed manual transmission or a 5- speed automatic transmission .
Other variants
Honda Amaze
The hatchback version of the Brio has been sold as the Honda Amaze since 2013.
Honda Mobilio
The second generation of the Honda Mobilio, which has been available since 2014, is based on the Brio.
Honda BR-V
The Honda BR-V, which has been built since 2015, also builds on the platform of the Brio.
Review
Honda's Stripping For Spares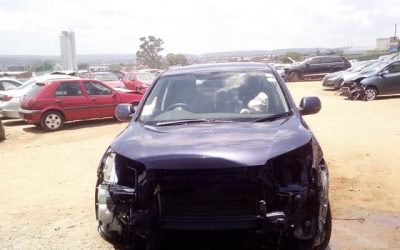 Now stripping a 1996 HONDA BALLADE 160i LUXLINE. Contact us for any part enquiries. Gearbox Complete Engine Lock Set: CAS, Key, Computer Box Suspension Parts Radiator Set: Radiator AC Condenser, Radiator Fan, Intercooler, Water Pipes, Heat Exchanger Interior...