Used Honda Gearboxes For Sale
Contact local South African Honda Scrap Yards, selling used and new Honda transmissions and parts. 
GET GEARBOX PRICES
Honda Gearboxes For All Models For Sale
If you're looking for a gearbox for your Honda, you just found it!
We sell gearboxes of all models!
You can see all our Honda gearboxes for sale in our section below.
Just make a note of the gearbox you need, in case you don't know which one you specifically need check online or with your mechanic.
If you don't find the one you need in our section call us, we will surely be able to get it for you.
We Send Parts all over SA!
We can deliver Honda spare parts throughout South Africa and neighbouring countries: Namibia, Zimbabwe, Swaziland, Botswana and Swaziland. We use top couriers with a "to the door service".
Scrap Your Honda For Parts!
We buy accident damaged or non-runners Honda's and strip them for spares. We buy vehicles in any condition! Whatever state they are in! Call today if you would like to get good money for your vehicle.
You're In Good Hands!
We only sell the best replacement Honda parts from reputable overseas companies having the top customer reviews. All new parts are guaranteed, ensuring your 100% satisfaction.  
Honda's Stripping For Spares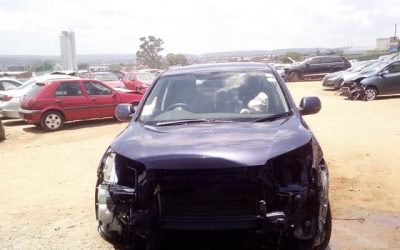 Now stripping a 1996 HONDA BALLADE 160i LUXLINE. Contact us for any part enquiries. Gearbox Complete Engine Lock Set: CAS, Key, Computer Box Suspension Parts Radiator Set: Radiator AC Condenser, Radiator Fan, Intercooler, Water Pipes, Heat Exchanger Interior...
About Gearboxes
About our Honda transmissions
Our Honda gearboxes for sale are quality, with little wearing and few kilometers at more than fair prices.
We get our gearboxes from accidents where these parts have left intact or we import them from abroad.
What is a gearbox?
Gearboxes (speadboxes) are fundamental elements in the transmission of vehicles, so ensuring their quality and condition is essential to have our vehicle in order.
Their main function is to establish the adequate traction force, adapting to the roads, the load or the speed we need. The traction force of your gearbox is established from gears, its number will vary according to the engine power.
Due to its design, the gearbox is usually coupled to the engine through a clutch or mechanical, hydraulic or torque converters. These transmissions perform circular movements that make a multidirectional reduction of power within a certain range of fixed transmission ratios (gears) to be chosen, the gears.
In combustion engines, the gearboxes are usually part of the engine or transmission itself, but may be replaced by an inverter.
Types of gearboxes
Manual gearbox
Most vehicles have this type of transmission. They are formed by gears that are mounted on axles, located between the clutch and the differential. Through the gears, which are used to change these gears. They are cylindrical and have multi-stage
Automatic gearbox
The automatic gearbox is made to change gear automatically and progressively (without the driver doing anything). It manages the starting of the vehicle, the selection and the change of gears. They usually fit quite well with the road and the situation.