Used Honda HR-V Spares For Sale
Local South African Scrap Yards, stripping Honda HR-V for spares.
FIND YOUR PARTS
Honda HR-V Parts
Honda Spares Scrap Yard supplies an considerable variety of used HR-V Honda spares. We are fully committed to offering you great superior used parts of the finest quality, at a inexpensive price for your satisfaction. It really is quite probable we'll keep the part you will require for practically any Honda automobile in South Africa. Within the dubious event which we won't possess the part you are searching for, we'll endeavor to find it for you!
The Parts We Stock
Honda Spares Scrap Yard carries a wide range of Authentic second hand Honda HR-V spare parts. We specialize in parts for the Honda HR-V, particularly engines, transmissions, body spare parts, seats, break pads, tail lamps, tie rod ends, electronic spares, cylinder heads and many more.
We Send Parts all over SA!
We can deliver Honda spare parts throughout South Africa and neighbouring countries: Namibia, Zimbabwe, Swaziland, Botswana and Swaziland. We use top couriers with a "to the door service".
Scrap Your Honda For Parts!
We buy accident damaged or non-runners Honda's and strip them for spares. We buy vehicles in any condition! Whatever state they are in! Call today if you would like to get good money for your vehicle.
You're In Good Hands!
We only sell the best replacement Honda parts from reputable overseas companies having the top customer reviews. All new parts are guaranteed, ensuring your 100% satisfaction.  
Past Honda HRV Part Enquiries
Date

City

Model

Engine

Requirements

2022-06-22 12:12:19 +00:00

Durban

HR-V

honda hrv 2019 1.8 elegance
tailgate
front drivers light
rear tail lights both sides

2022-06-20 10:09:52 +00:00

Harare

HR-V

1600

CVT Automatic Transmission compatible with my Honda HRV.

2022-06-20 09:41:10 +00:00

Cape Town

HR-V

1.8

Passenger power window switch part number 35760 T7S N11

2022-06-15 08:53:46 +00:00

Musina limpopo

HR-V

1.5lt

ABS MODULE

2022-06-10 14:03:08 +00:00

Gauteng

HR-V

1.8

Front bumper radiator left fender left xenon lights

2022-05-24 10:40:07 +00:00

Durban

HR-V

Do you have the following parts for a Honda HRV 2019.
1. Rear Bumper
2. Drivers Head light
3. Back Lights (2x Boot Lid and 2 x each side)


2022-05-23 09:43:02 +00:00

BULAWAYO

HR-V

1590

ALL ENGINE MOUNTINGS
AND SHOCK ABSORBERS

2022-05-14 06:16:42 +00:00

Krugersdorp

HR-V

G6BA8695744

Left side head camshaft it is a V6Honday 2009 Model

2022-05-09 13:34:29 +00:00

Cape Town

HR-V

1.8

Front passenger window switch. Part number 35760-T7S-N11

2022-05-09 08:27:46 +00:00

Polokwane

HR-V

Fog light

2022-04-22 12:52:26 +00:00

Cape Town

HR-V

1.8

LEFT REAR REFLECTOR

2022-04-16 11:38:57 +00:00

Johannesburg

HR-V

1.5

Master window switch front drivers side

2022-04-13 08:28:53 +00:00

Germiston

HR-V

1.5

Master switch on driverdoor windows up down

2022-04-06 11:45:31 +00:00

Maputo

HR-V

1.4

Hi

Im looking a body parts for honda HR-V.

Regards

2022-04-01 06:59:52 +00:00

JHB

HR-V

HRV left mirror

2022-03-18 14:03:23 +00:00

Claremont - Cape Town

HR-V

1800cc

2019 Honda HRV. I need a left side outer tail-light (the one on the car body not the bit on the boot lid) The current one was broken by a falling branch.

2022-03-11 10:18:40 +00:00

East London

HR-V

1.8

Lower control arm bushings

2022-03-08 18:53:31 +00:00

Pretoria

HR-V

1.8

Cv joint left
Shockes
Shock mounts
Oil cooler

2022-02-16 11:42:17 +00:00

boksburg

HR-V

1.8

right rear door

2022-02-07 11:40:12 +00:00

Pretoria

HR-V

r18zf

HiI need an engine for HRV R18zf
About The HR-V
In 1998, the Honda HR-V model debuted, combining incompatible characteristics: an off-road and comfortable car. At the Tokyo Motor Show, the concept was shown back in 1997 and was a very unusual, even futuristic car. The production model is a bit simpler, but still the look of this tall 3-door car looks extremely fresh. In the design of the exterior everywhere there are elements that you want to pay attention to.
Design
This is the original performance of the front of the body, and strong fenders, and the "sharp" line of the side windows. The car is built on a common platform with the Honda Logo, but of course, outwardly this can not be said. Cast like a bullet, this amazing compact crossover has unprecedented high driving performance and ease of driving.
September 22, 1998, sales of the three-door version of the HR-V began in the trim levels J (front-wheel drive), J4 (4WD) and JS4 (4WD and motor with VTEC). Almost a year later, a five-door modification was added.
Interior & Accessories
In the interior of the HR-V, the original front panel, round dials of large-diameter instruments with a visor in a double design stand out. Despite its small size, it is easy to transport long objects in the car, for which it is enough to transform the seats. On the backs of the front seats are pockets. Folding side mirrors – with electric drive, there is a remote key, rear shelf, a box in the trunk floor. Given the car's sporting character and its purpose for an active lifestyle, the best equipment includes roof rails and a rear spoiler with an integrated stop signal, 16-inch aluminum wheels with 205 / 60R16 tires, a wide glass sunroof with a tilt mechanism and a sun visor , tinted windows, Honda navigation system with a multimedia device including a CD player, AM / FM cassette deck, TV tuner and 4 audio speakers. As a result of restyling in 2001, the design of the front of the body, interior elements changed.
Engine
Two types of LEV engine are installed on the HR-V: a 1.6-liter in-line 4-cylinder 16-valve SOHC and a 1.6-liter in-line 4-cylinder 16-valve DOHC with a variable valve timing system VTEC. The first has a power of 105 hp, the second – 125 "horses". Accordingly, the maximum torque is also different – 138 Nm (3400 rpm) and 144 Nm (4900 rpm). It should be noted that HR-V was one of the first cars with a record low emissions. The crossover can be equipped with a 5-speed manual gearbox (in the "J", "J4" trim levels) or a Honda branded continuously variable transmission called Multi Matic S.
HR-V Suspension
As already mentioned, HR-V was produced in front-wheel or all-wheel drive version (4WD Real Time with a double pump). According to its driving characteristics, this very stylish and fashionable car is close to a sports one. Even if you skillfully use a 5-speed manual transmission on the most inexpensive front-wheel drive modification, you can achieve a movement similar to that of a front-wheel-drive sports car. If we talk about all-wheel drive modifications, they look great on rough terrain, and the ground clearance of 190 mm is a very good indicator, especially in combination with a relatively short (2360 mm) base, although in 1999 the clearance was reduced to 175 mm. Front suspension HR-V – suspension struts, rear – type De-Dion or uncut beam.
HR-V Safety
Protective equipment HR-V is a wide range of safety systems and equipment. The standard equipment includes airbags for the driver and front passenger, 4-wheel ABS (anti-lock braking system) supplemented by EBD (brake force distribution) and Brake Assist (auxiliary braking) systems. The door has built-in amplifiers of rigidity and shock absorption. Seat belts – with load limiters and pretensioners.
Summary
It is important to note another feature of the Honda HR-V, emphasizing its individuality and uniqueness: it is in this performance (compactness, 4WD, comfort, swiftness of forms, dynamics) that there is practically no alternative to the car. The excellent consumer qualities of the HR-V allowed the car to quickly win a considerable number of fans. The first were three-door versions, but, of course, consumers showed more interest in five-door modifications, the practicality of which is beyond doubt, in addition, in 2003 HR-V with three doors ceased to be produced at all. Cars from the domestic market in Japan are in great demand, and they are on sale much wider than their left-hand drive analogue.
Honda's Stripping For Spares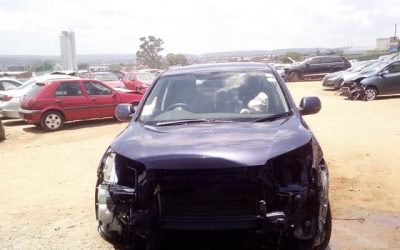 Now stripping a 1996 HONDA BALLADE 160i LUXLINE. Contact us for any part enquiries. Gearbox Complete Engine Lock Set: CAS, Key, Computer Box Suspension Parts Radiator Set: Radiator AC Condenser, Radiator Fan, Intercooler, Water Pipes, Heat Exchanger Interior...